Note : Export Only, Minimum order 1×20 feet container
Welcome To PERMATA FURNI
Reclaimed Teak Wood Furniture Manufacture Indonesia
PERMATA FURNI (Reclaimed Teak Furniture Manufacture) Was founded by Mr. Erie Sasmito in Semarang Central Java – Indonesia, starting the company by restoring & finishing broken cabinets and dirty Old Dingklik Tables export to The Netherlands in 1998.
As the business growing, in year of 2000 the company build their own production facility with size 11,000 SQM complete with Kiln & Dried Facility. These recycled teak combine with stainless steel, iron and durable polyfibers and reliable outdoor fabrics. Pure minimalist shapes and natural untreated materials work to create unique reclaimed furniture pieces of comfort and beauty.
Focusing on reclaimed wood furniture, we become one of the biggest producer in Semarang Indonesia for this category.
Contact Us
Our Products
We specialize in crafting high-quality furniture pieces using reclaimed teak wood that is both beautiful and environmentally friendly. Our commitment to sustainability is reflected in our use of reclaimed teak wood, which we combine with modern materials to create furniture that is not only beautiful but also durable.
Our teak furniture collection features a wide range of pieces, including dining sets, lounge chairs, outdoor furniture, and more. Each piece is designed to be both functional and beautiful, with pure minimalist shapes and natural, untreated materials that create a timeless and sophisticated aesthetic.
At RecycleTeak.com, we are committed to offering our customers wholesale teak furniture at an affordable price, without compromising on quality or sustainability. Our teak furniture pieces are the perfect choice for homeowners, interior designers, and businesses looking to create a unique and sustainable space.
We take pride in our state-of-the-art production facility, which allows us to ensure that our teak furniture pieces are of the highest quality. Our reclaimed teak wood is carefully selected and crafted into furniture that is not only beautiful but also durable and long-lasting.
In conclusion, at RecycleTeak.com, we are committed to producing high-quality and sustainable teak furniture pieces that are both beautiful and functional. Our use of reclaimed teak wood, combined with modern materials and minimalist design, results in furniture that is not only timeless but also environmentally friendly. Choose RecycleTeak.com for your teak furniture needs and experience the beauty and sustainability of our teak wood furniture.
Reclaimed Teak Wall Cladding Panels
We also offer wall cladding / teak wall panels for hotel, villa, resort decoration projects, etc.
Buy reclaimed teak wall cladding panels directly from manufacturers in Indonesia at wholesale prices.
Shop now
Why Choose Us?
Best Quality Products
The products we supply have the best quality with strict supervision
Factory Wholesale Price
We are furniture manufacture provide best quality with best wholesale price
Experienced Manufacture
We have had more than 20 years of valuable experience in doing the business
On Time Delivery
We always ensure our shipments arrive on time at your place
Currently Exporting to
Belgium, Italy, Holland, US, Germany, Sweden, Greece, Australia, New Zealand , Taiwan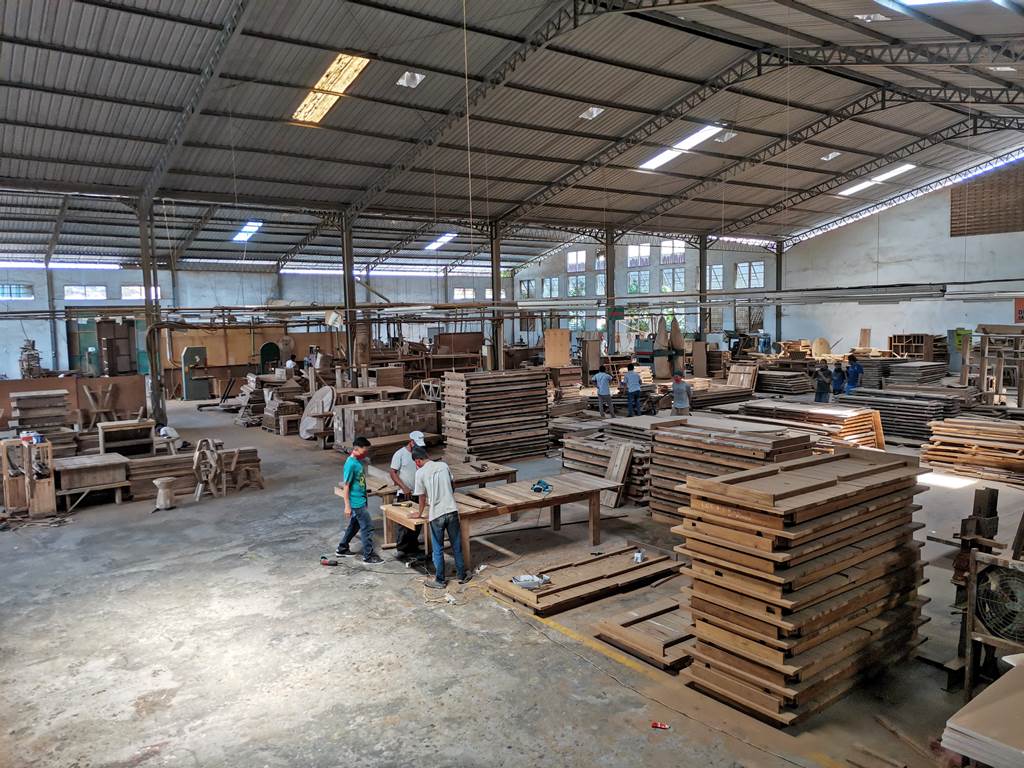 About Factory
Type of Business : Manufacture
Type of Registration : Private Owned Company
Number of Factory : 2 (two)
Number of Worker : 250
Product : Teak Table, Teak Chair, Teak Cabinet
Raw Material : Recycle Teak Wood, Pine
Minimum Order : 1 x 20'
Yearly Export Volume : 140/40 FCL
Yearly Turnover : USD 3.000.000 (100% Export)
Director / Owner : Erie Sasmito
Mobile : +62 81 127 7311
Email : [email protected] | [email protected]
Factory Address
FACTORY I
Jl. Raya Cangkiran – Gunung Pati KM. 1, Kel. Bubakan – Mijen, Semarang, Indonesia

FACTORY II
Kawasan Industri Tambak Aji, Jl. Tambak Aji V No. 10A Semarang, Indonesia